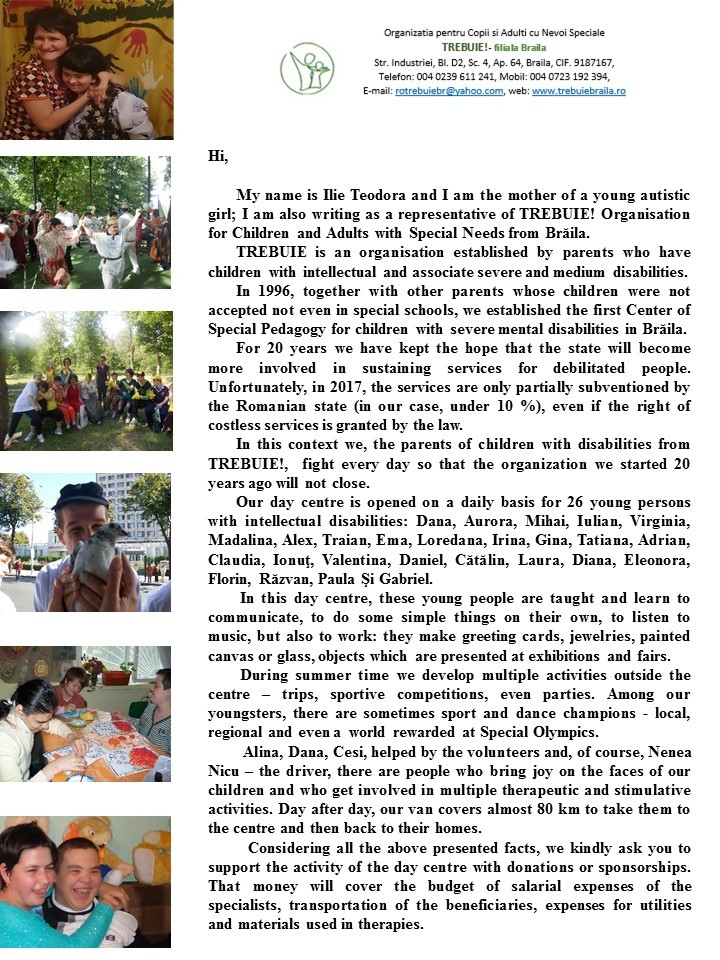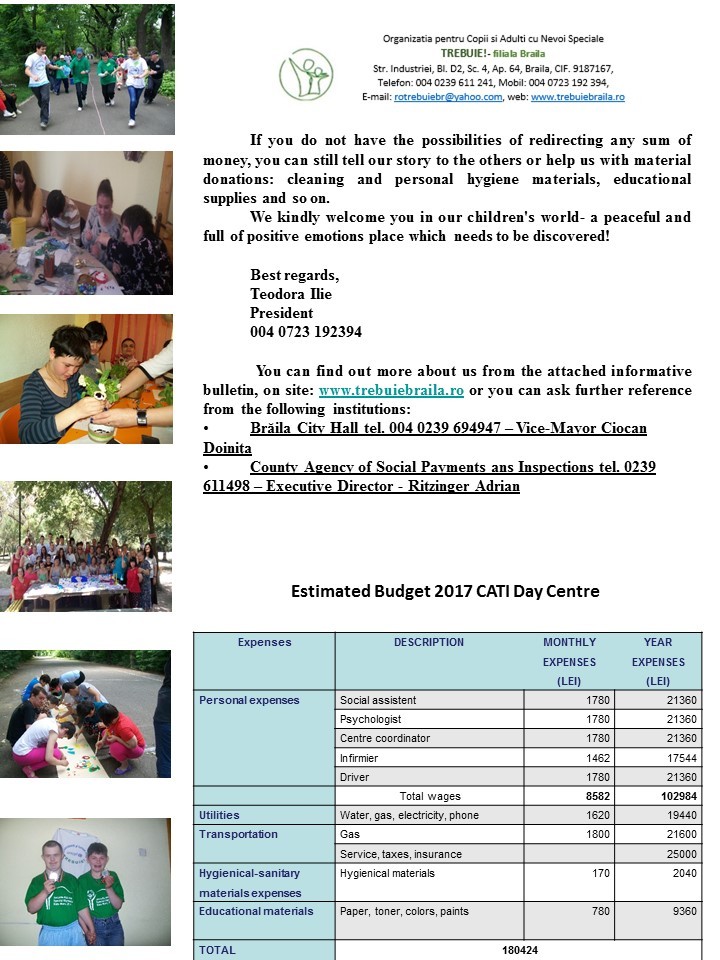 Hi,
My name is Ilie Teodora and I am the mother of a young autistic girl; I am also writing as a representative of TREBUIE! Organisation for Children and Adults with Special Needs from Brăila.
TREBUIE is an organisation established by parents who have children with intellectual and associate severe and medium disabilities.
In 1996, together with other parents whose children were not accepted not even in special schools, we established the first Center of Special Pedagogy for children with severe mental disabilities in Brăila.
For 20 years we have kept the hope that the state will become more involved in sustaining services for debilitated people. Unfortunately, in 2017, the services are only partially subventioned by the Romanian state (in our case, under 10 %), even if the right of costless services is granted by the law.
In this context we, the parents of children with disabilities from TREBUIE!, fight every day so that the organization we started 20 years ago will not close.
Our day centre is opened on a daily basis for 26 young persons with intellectual disabilities: Dana, Aurora, Mihai, Iulian, Virginia, Madalina, Alex, Traian, Ema, Loredana, Irina, Gina, Tatiana, Adrian, Claudia, Ionuţ, Valentina, Daniel, Cătălin, Laura, Diana, Eleonora, Florin, Răzvan, Paula Şi Gabriel.
In this day centre, these young people are taught and learn to communicate, to do some simple things on their own, to listen to music, but also to work: they make greeting cards, jewelries, painted canvas or glass, objects which are presented at exhibitions and fairs.
During summer time we develop multiple activities outside the centre – trips, sportive competitions, even parties. Among our youngsters, there are sometimes sport and dance champions – local, regional and even a world rewarded at Special Olympics.
Alina, Dana, Cesi, helped by the volunteers and, of course, Nenea Nicu – the driver, there are people who bring joy on the faces of our children and who get involved in multiple therapeutic and stimulative activities. Day after day, our van covers almost 80 km to take them to the centre and then back to their homes.
Considering all the above presented facts, we kindly ask you to support the activity of the day centre with donations or sponsorships. That money will cover the budget of salarial expenses of the specialists, transportation of the beneficiaries, expenses for utilities and materials used in therapies.
If you do not have the possibilities of redirecting any sum of money, you can still tell our story to the others or help us with material donations: cleaning and personal hygiene materials, educational supplies and so on.
We kindly welcome you in our children's world- a peaceful and full of positive emotions place which needs to be discovered!
Best regards,
Teodora Ilie
President
004 0723 192394
You can find out more about us from the attached informative bulletin, on site: www.trebuiebraila.ro or you can ask further reference from the following institutions:
Brăila City Hall tel. 004 0239 694947 – Vice-Mayor Ciocan Doiniţa
County Agency of Social Payments ans Inspections tel. 0239 611498 – Executive Director – Ritzinger Adrian