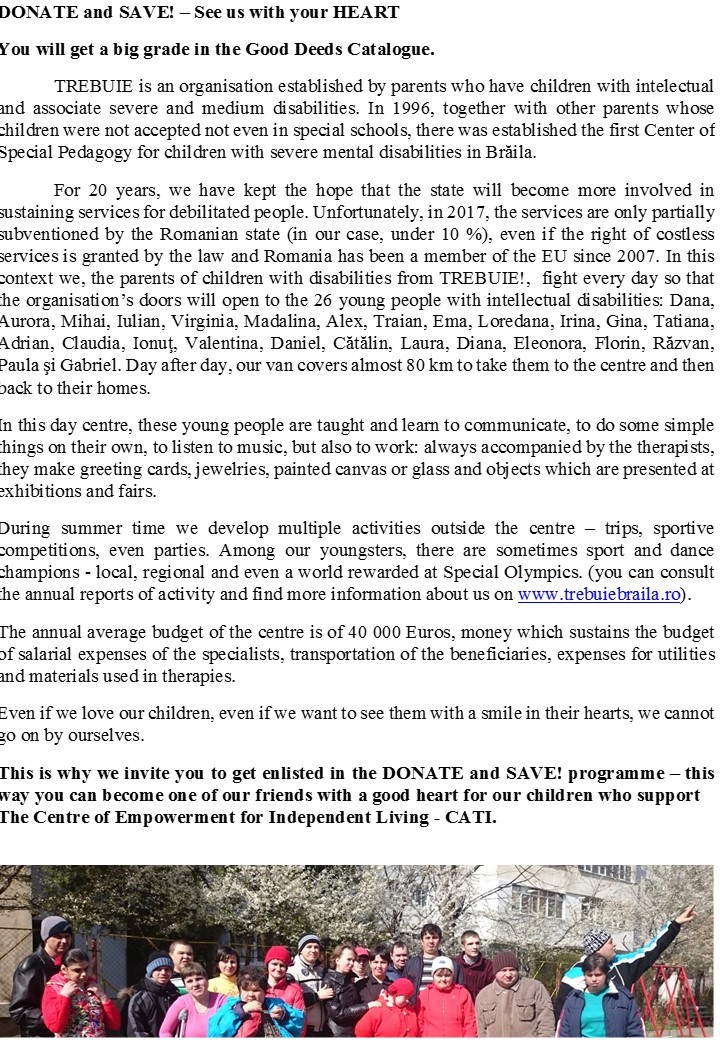 DONATE and SAVE the CENTRE!
See us with your HEART, you will get a big grade in the Good Deeds Catalogue.
Dear friends of children from TREBUIE!,
We invite you to support the programme TREBUIE! – The Centre of Empowerment for Independent Living – CATI
Even if we love our children, even if we want to see them with a smile in their hearts, we, the parents, cannot financially sustain the social service of integration.
This is why we invite you to get enlisted with a donation in our programme.
DONATE and SAVE the CATI Centre!
The annual average budget of the centre is of 40 000 Euros, money which sustains the budget of salarial expenses of the specialists, transportation of the beneficiaries, expenses for utilities and materials used in therapies.
For sponsorships/ donations:
CONT LEI: RO30 RNCB 0048 0259 1507 0001 BCR Brăila
CONT EURO: RO46 RNCB 0048 0259 1507 0004 BCR Brăila
Donation buttons: http://www.trebuiebraila.ro
Sponsorship Contract: download here
Donation Contract: download here